News
Russia claims to have conquered Kherson, mayor says: "We are still Ukraine"
Russia said on Wednesday it had captured Kherson, a regional capital of about 250,000 people in southern Ukraine. Ukrainian authorities confirm that Russian forces are in the city, but that street fighting is ongoing. The regional governor said overnight that the city was under siege, under constant fire, and that Russian troops were looting shops and pharmacies. The mayor of Kherson said on social media: "We are still Ukraine." An adviser to the Ukrainian president posted a video showing a Ukrainian civilian seizing a Ukrainian flag placed on a Russian tank in the city and waving it in front of soldiers shouting: "Glory to Ukraine."
Ring around Mariupol
If confirmed, it would be the largest city ever conquered since the start of the Russian invasion, and it has an important strategic position on the Dnieper River.
In the south of the country, Russia continues to put enormous pressure on the port city of Mariupol, which is also surrounded by a ring around the entire shores of the Sea of ​​Azov. The mayor of Mariupol says the city has been the target of bombing since Tuesday and that the wounded could not be evacuated.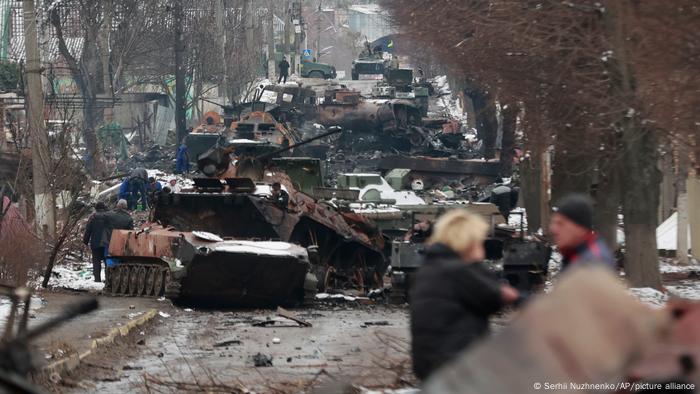 Destroyed Russian military vehicles in Bukha, near Kyiv
On the other two fronts, in the east and west of the country, Russia has not had much success so far. The two largest cities, Kyiv and Kharkov, managed to repel the attacks despite constant bombardment.
Kharkov in particular has been the target of heavy shelling for the past two days, and the city center has been almost completely destroyed. At least 21 people have been killed in shelling in the last 24 hours, and four more early this morning.
In Kyiv yesterday, Russian forces shelled a television tower near the monument to the victims of the Holocaust, killing five people.
Moscow's new tactics
After Russia failed to overthrow the government in Kyiv, Western countries fear that Moscow is changing its strategy and resorting to more violent, artillery attacks on cities.
Russia says it has sent representatives to a new round of talks with Ukraine near its border with Belarus, but Ukrainian President Volodymyr Zelensky has said Russia must first stop bombing cities if it wants to negotiate peace.
"It is necessary to stop bombing people first, to stop bombing, and then to sit down at the negotiating table."
The United States and NATO have rejected Ukraine's request to impose a "no-fly zone" over Ukraine, saying it would lead to a direct confrontation with Russia. But weapons, ammunition and other equipment are being sent to Ukraine en masse.