Tech
Huawei ranked 3rd as the most valuable brand for electronics and appliances in the world according to Brand Finance 2022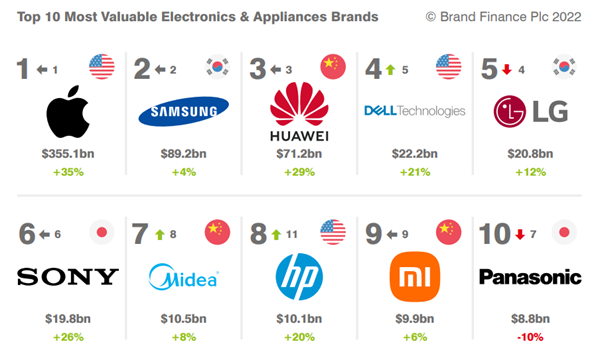 Brand Finance, the world's leading brand valuation consulting firm, tests 5,000 of the world's largest brands in 29 sectors and 36 countries each year. Huawei ranks high in the Brand Finance Electronics & Appliances 50 report for 2022, released in March, in the most valuable and strongest categories, retaining its leading position from last year.
Huawei maintains its position as one of the most valuable electronics brands in the world with a 29% annual growth of the brand value to 71.2 billion dollars, which positions the company in third place in the world. Following changes in market conditions and supply chain disruptions caused by the COVID-19 pandemic, first-class brands are showing strong resilience despite limited supply levels.
Huawei also ranks high in the category of strongest brands for electronics and appliances with a Brand Strength Index (BSI) of 82 out of 100, and an AAA- brand rating. Brand Finance experts point out that Huawei's consumer-oriented infrastructure and business have been hit hard by sanctions by some Western governments, but the company has been able to respond by increasing investment in both local technology companies and research and development activities. and in the telecommunications business due to the introduction of 5G mobile network in China, Europe, the Middle East and Africa. In addition, the brand strengthens its software base by investing in operating systems such as HarmonyOS and EulerOS to provide consumers with a complete technological experience.
Huawei has released its annual report for 2021 which reveals the stable levels that the company has maintained over the past year. According to the latest report, Huawei generated revenue of $ 99.9 billion in 2021 and $ 17.8 billion in net profit, an increase of 75.9% year on year. The company's R&D expenditure reached $ 22.3 billion in 2021, representing 22.4% of its total revenue, bringing total R&D expenditure to over $ 132 billion in the past 10 years. The company plans to continuously increase investment in research and development.
Huawei's consumer business focuses on the wants and needs of consumers, further building the global ecosystem for an intelligent, fully connected era, as part of the Seamless AI Life strategy. The industry generated $ 38.1 billion in revenue in 2021 and continues to grow in sales of Huawei portable smartphones, smart screens, wireless stereo headphones (TWS) and mobile services (HMS). Specifically, the smart device and smart segment screens grew by 30% + annually. HarmonyOS will be used on more than 220 million Huawei devices by 2021, becoming the fastest growing mobile operating system in the world.