Nebraska
Best things to do and visit if your travel in Lincoln, Nebraska
As the capital of Nebraska, Lincoln is home to a wealth of museums and cultural attractions, but it is also a university city with an active and vibrant atmosphere. If you decide to pull off the highway and spend a bit of time here, you'll find no shortage of things to do.
In the city center is the Historic Haymarket District, an interesting area with shops, galleries, and restaurants, popular with both locals and tourists. The area around the capitol building has a number of important sites, including the Governor's Residence.
On the University of Nebraska campus, conveniently located in the heart of the city, are the Sheldon Museum of Art and the University of Nebraska State Museum. Outside the city center, but still within easy driving distance, some unique attractions are worth checking out, including the Speed Museum and the Quilt Museum.
For more ideas on things to do, see our list of the top attractions in Lincoln.
1. Stroll through the Historic Haymarket District
The Historic Haymarket District is a wonderful place to stroll around, grab a bite to eat, or just people watch. The area is compact and consists of beautifully renovated and restored late 19th-century brick warehouses, brick streets, a large water tower, and a unique clock.
The Haymarket District has a lively vibe, as the University of Nebraska is nearby and the students frequent the many establishments packed into this small area. The most notable building is the Lincoln station. Once a railway depot, today it houses the visitor center and a restaurant. In the summer, the streets are frequently closed off for festivals and farmers markets.
Location: 7th and P Streets, Lincoln, Nebraska
2. Tour the Nebraska State Capitol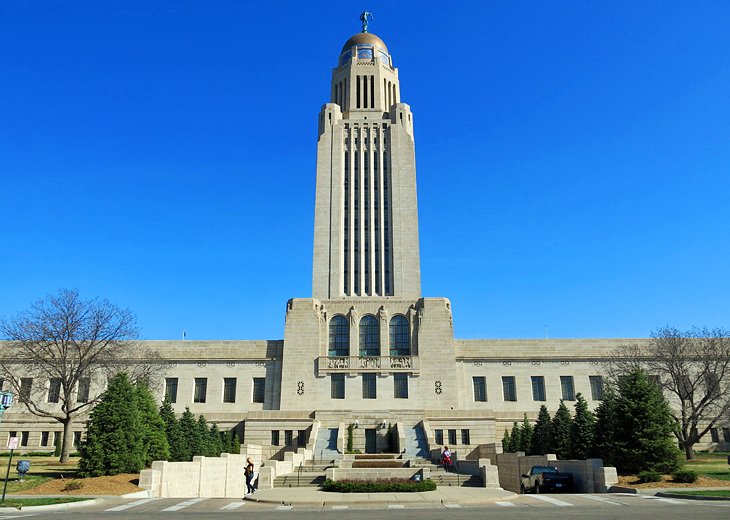 It took three tries for Nebraska to construct a capitol building that would last. The building today, the third one on this site, is unique in respect to other state capitols. It doesn't have the traditional dome, but instead, it incorporates a 400-foot tower containing offices.
The cost of the building was 10 million dollars and construction took 10 years, starting in 1922. The Nebraska State Capitol is well worth a visit for its limestone exterior depicting 3,000 years of democracy through carvings, and its ornate interior of marble columns, mosaic floors, and murals. The figure on the very top is a 19-foot-tall bronze figure of The Sower.
Address: 1445 K Street, Lincoln, Nebraska
Official site: http://capitol.nebraska.gov/index.php/visit
3. Visit the University of Nebraska State Museum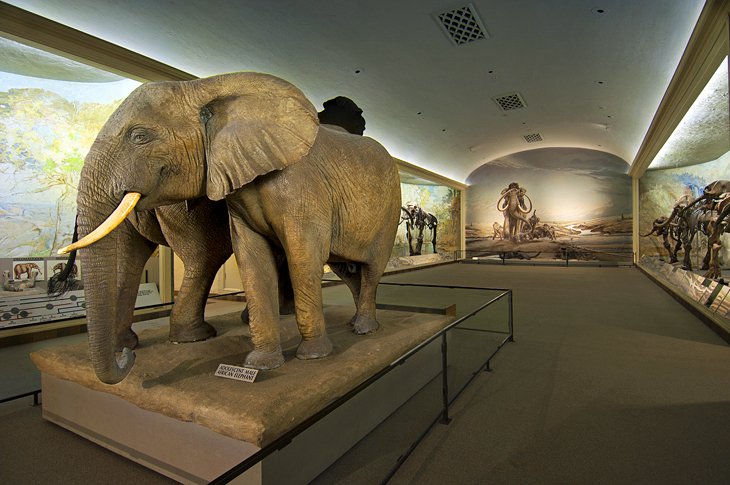 For fans of paleontology, the University of Nebraska State Museum, a Smithsonian Affiliate, is a must-see attraction in Lincoln. Housed here is the world's largest articulated mammoth, along with a well-regarded exhibit of fossilized elephants. As a result, the museum is sometimes referred to as Elephant Hall. The museum has other collections related to the natural history of Nebraska and is home to the Mueller Planetarium.
A trip to the museum can be part of a pleasant stroll around the lovely grounds of the University of Nebraska campus in Lincoln and can also be combined with a visit to the Quilt Museum and the Lester F. Larsen Tractor Test and Power Museum
Address: 645 North 14th Street, Lincoln, Nebraska
Official site: http://museum.unl.edu/
4. Take in a Game at Memorial Stadium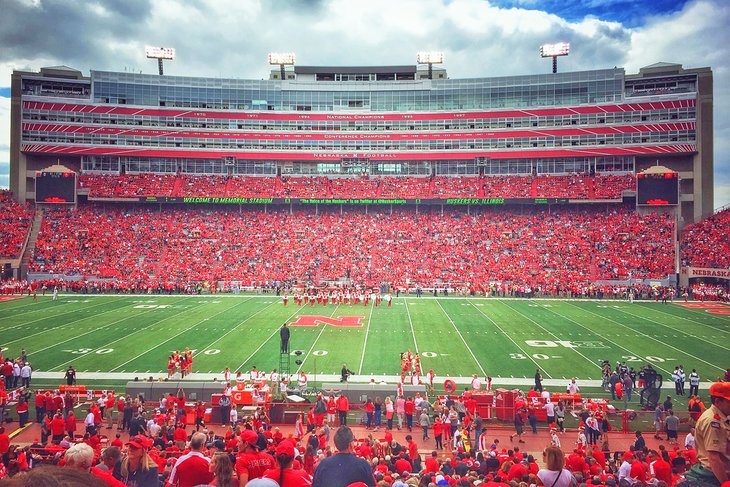 Nebraskans are fanatical about their sports teams, and the Cornhuskers are no exception to this rule. If the team is playing when you are in town (and you can get tickets), a visit to the stadium during a home game is a fun thing to do. The nearly 90,000-person crowd is not shy about showing their allegiance, and the roar when the home team scores can be deafening.
Even if no games are scheduled, and you are a fan of college football, check out the Hall of Fame walk outside the arena and take the free self-guided tour. Some of the main highlights include the Bob Devaney statue, a set of historic columns dating from 1892, the trophy case, and, of course, the Huskers store full of all kinds of jerseys and other team swag. The self guided tour also allows you to enter the stadium and look at the playing field from gate 23A.
You can take the self guided tour any day of the week, although on game days and the lead up to game days, certain areas may be inaccessible. If you'd like a guided tour, these are available on Wednesday and Thursday mornings.
Official site: https://huskers.com/sports/2019/4/16/210004196.aspx
5. Relax at the Sunken Gardens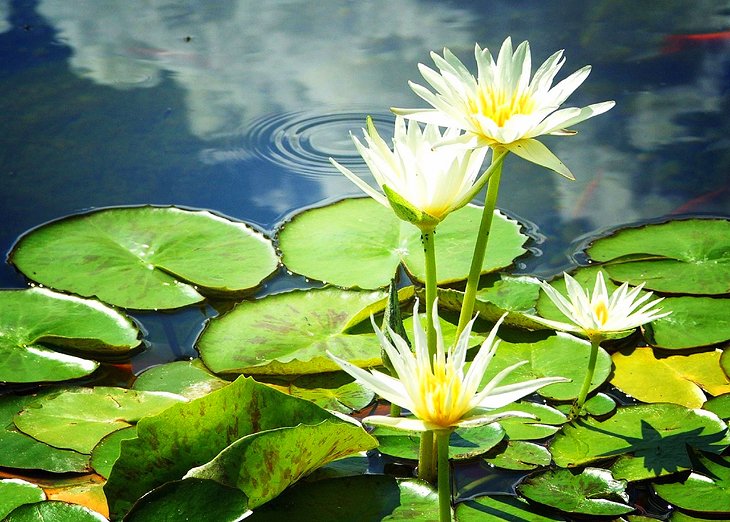 The beautiful Sunken Gardens are a work of natural art that pleases all the senses. Founded in 1930 and renovated in 2004, the gardens are a point of civic pride in Lincoln.
The park has three main gardens: the Healing Garden, where all the plants bloom white; the Perennial Garden; and the Annual Garden. In the Annual Garden, more than 30,000 plants are used each year to create new designs and themes. The gardens are relatively small, covering less than two acres so they can be visited quickly, however don't be surprised if you end up staying longer.
Address: 27th and Capitol Parkway, Lincoln, Nebraska
Official site: https://www.lincoln.ne.gov/City/Departments/Parks-and-Recreation/Parks-Facilities/Public-Gardens/Sunken-Gardens
6. See Historic Cars at the Museum of American Speed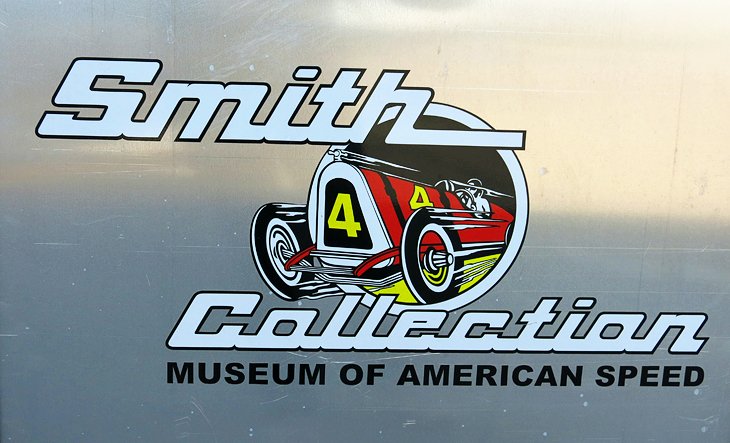 Fans of race cars, engines, and generally anything that goes fast will enjoy the Museum of American Speed. The museum was founded in 1922 and today boasts 135,000 square feet of exhibition space.
In addition to an extensive archive collection, there are three major exhibitions, namely Automobilia, Cars and Engines, and Toys and Models. The museum can be tricky to find as it is located in an industrial park, but it is worth the effort, use the GPS coordinates provided on the website.
Tours are offered in the afternoons, weekdays only, and last two hours. If you prefer to go at your own pace, the museum is set up to be self-guided as well.
Address: 599 Oak Creek Drive, Lincoln, Nebraska
Official site: http://www.museumofamericanspeed.com/default.dlp
7. Engage in Wildlife Spotting at Pioneers Park Nature Center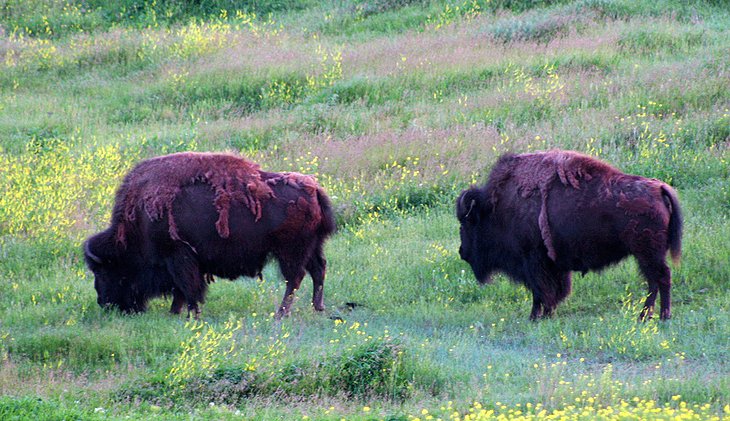 Pioneers Park Nature Center is ideal for those on a budget looking for free outdoor fun with some education thrown in. The park is set on 668 acres and is a great place to get back to nature, this is what the Great Plains used to look like before the advent of modern farming.
Eight miles of hiking trails wind around the property, and visitors will see herds of bison, white-tailed deer, and elk. Those with keen eyes may also spot red-tailed hawks, barred owls, and wild turkeys.
In the Nature Center building, caged animals can be seen up close, and for those wishing to touch a turtle or a snake, it can be easily arranged simply by asking.
A children's play area has climbing structures and a big patch of dirt with digging toys provided.
Address: 3201 S. Coddington Ave, Lincoln, Nebraska
Official site: https://www.lincoln.ne.gov/City/Departments/Parks-and-Recreation/Parks-Facilities/Pioneers-Park-Nature-Center
8. Catch Up on Culture at the Sheldon Museum of Art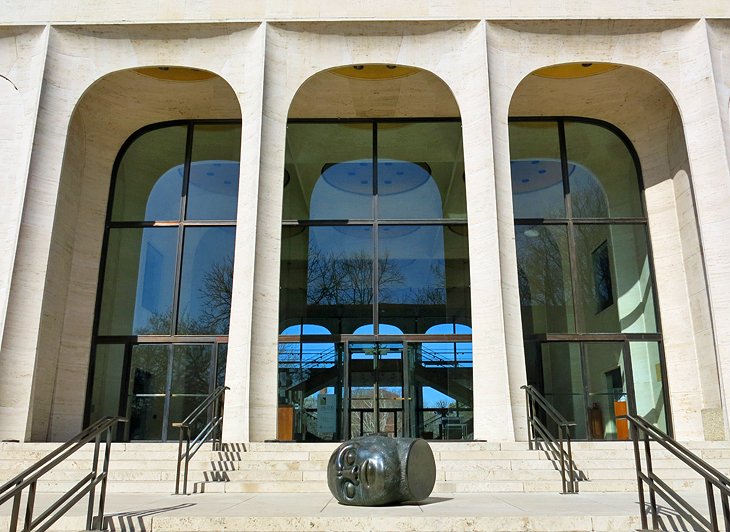 The fascinating Sheldon Museum of Art consists of 12,000 pieces of art spanning many different media. This museum is just a short stroll from the University of Nebraska State Museum, and along the way are unusual sculptures that are part of the Sheldon Museum's collection.
Of particular note is the untitled big head by the artist Jun Kaneko, on the steps of the museum. There are more than 30 sculptures, with pieces by Jacques Lipchitz, Claes Richard Serra, and William Tucker among others. Inside, the main focus of the museum is on American Art. Notable artists in the collection include Mary Cassatt, Georgia O'Keeffe, and Andy Warhol.
Address: 12th and R Streets, University of Nebraska, Lincoln, Nebraska
Official site: www.sheldonartmuseum.org
9. Feed the Animals at the Lincoln Children's Zoo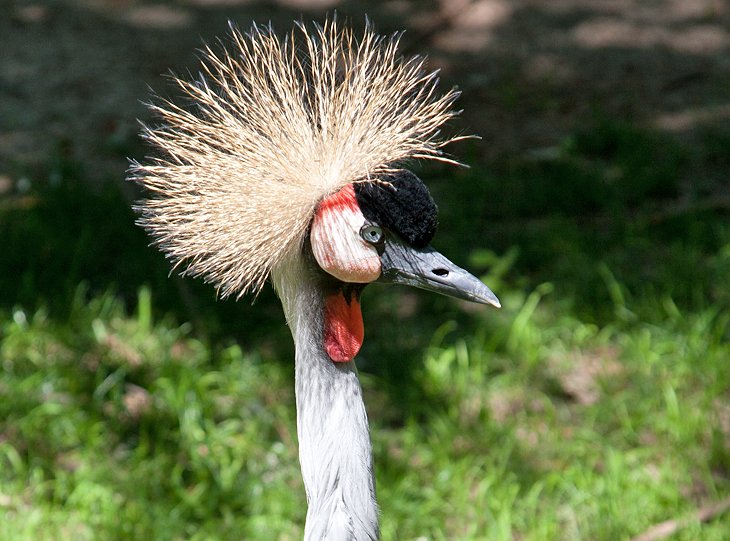 With its more than 400 animals, the Lincoln Children's Zoo is an ideal family thing to do in Lincoln. One of the highlights of a visit is a ride on the scale model train. In operation for over 55 years, the train delights young and old as it travels around the zoo. There is a small fee to ride.
Another fun activity is feeding the giraffes. Bundles of feed are available for a modest fee, and the animals are keen to participate. Be sure to check out the Animal Encounter Stage, where you can get up close and personal with a range of creatures, including armadillos, owls, boa constrictors, and an alligator. Guided horse rides are also available.
Address: 1222 South 27th Street, Lincoln, Nebraska
Official site: https://www.lincolnzoo.org/
10. Take the Kids to the Lincoln Children's Museum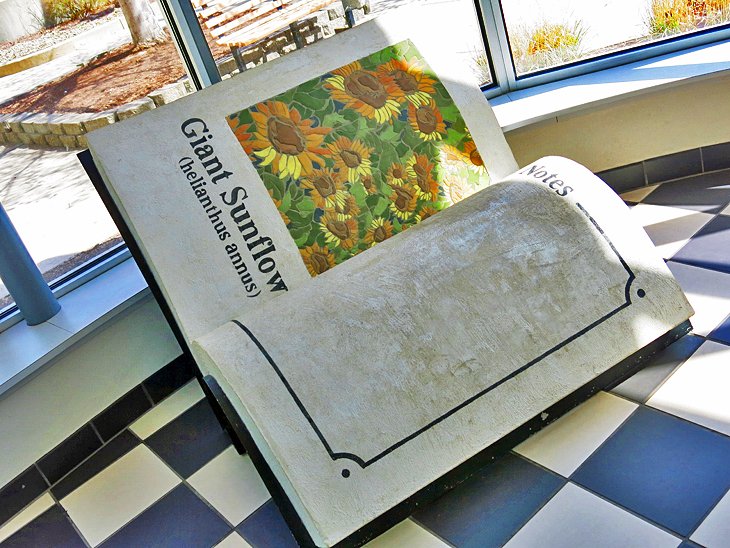 Ideal for children of all ages, the Lincoln Children's Museum is both fun and educational. Colorful and exciting exhibits are spread out over 20,000 square feet and three floors. The interactive nature of the displays will be sure to keep little people entertained for hours.
The museum allows children to be active and creative in a learning environment. Exhibits change all the time, so visitors may want to check in advance to see what experiences they can expect to find during their trip.
Address: 1420 P Street, Lincoln, Nebraska
Official site: www.lincolnchildrensmuseum.org
11. International Quilt Study Center & Museum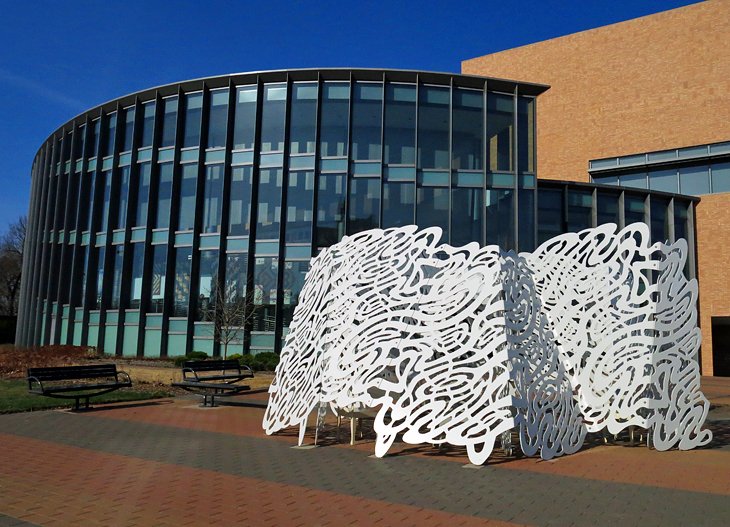 Housed in a unique modern building on the East Campus of the University of Nebraska, the International Quilt Study Center & Museum is an unexpected delight. Quilting aficionados will not want to miss the main collection showcasing 400 years of quilting, with 3,500 items from more than 30 countries. Even those without any knowledge of quilting will find the colors and patterns displayed here mesmerizing.
The museum also hosts a regular roster of traveling exhibits and offers a diverse set of educational programs and activities.
Address: 1523 N 33rd Street, Lincoln, Nebraska
Official site: www.quiltstudy.org
12. Tour the Governor's Residence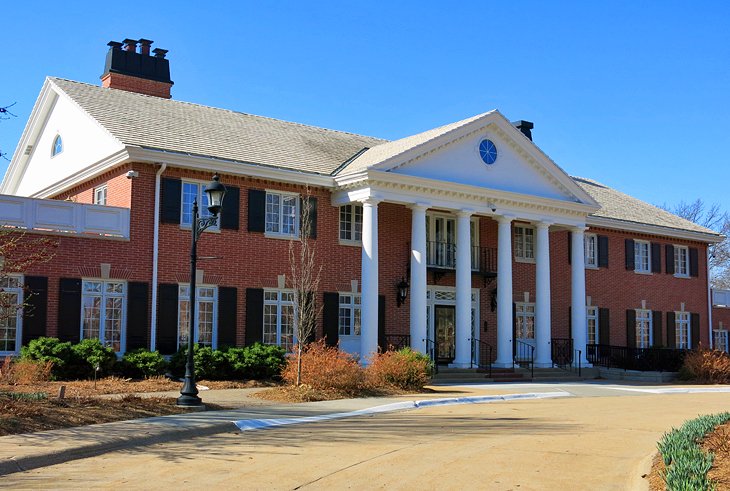 Set on beautiful grounds with large trees, colorful gardens, and manicured lawns, the Governor's Residence is a picture-perfect mansion. The building, originally opened in 1958 and extensively remodeled in 1997, contains 31 rooms, but only five bedrooms.
The architectural style is modified Georgian Colonial. The mansion is just a short walk from the Nebraska State Capitol, and the two can be combined in one visit. Forty-minute guided tours are available once a week on Thursdays only and need to be booked at least two weeks in advance. Tours are free.
Official site: https://governor.nebraska.gov/governors-residence
13. National Roller Skating Museum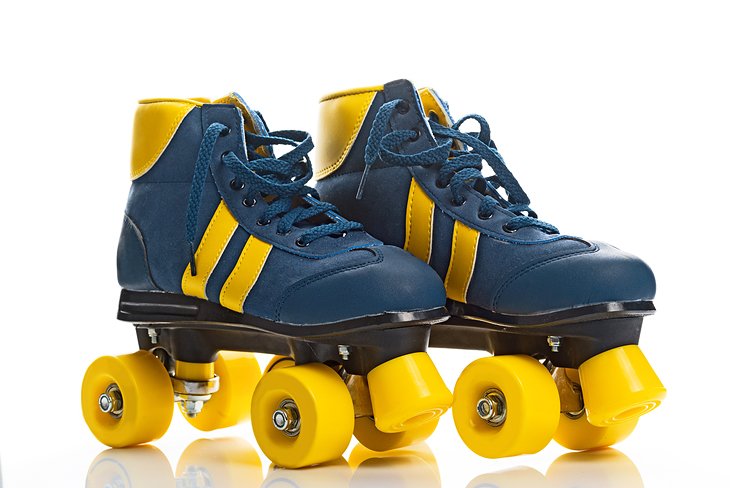 This free attraction is a worthwhile stop and not something you see every day. Those of a certain age will be impressed by the wide range of roller skates and memorabilia on display.
The museum focuses on five different types of rolling fun: Inline skating, Artistic Skating, Roller Hockey, Speed Skating, and Roller Derby. The tour is self-guided, so you can take as long as you'd like to browse through the exhibits; staff are on hand to answer any questions.
Some of the highlights are the powered skates, the elevator skates, and one pair dating from 1814.
Address: 4730 South Street, Lincoln, Nebraska
Official site: https://www.rollerskatingmuseum.org
14. Lester F. Larsen Tractor Test and Power Museum
This small museum is a must-see for anyone interested in the history of gas-powered tractors and their impact on farming. Located on the East Campus of the University of Nebraska, the museum can be a bit tricky to find.
A wide variety of beautifully restored tractors dating back to 1915 are on display along with other farm implements. A very knowledgeable guide is on staff to answer questions. As the museum is located on the university campus, a visit here can be combined with stops at the State Museum and the Quilt Museum. Admission is by donation.
Address: 1925 N 37th Street, Lincoln, Nebraska
Official site: https://tractormuseum.unl.edu/