News
Best Places To Swim With Manatees In Florida(For Cheap!)
This post may contain affiliate links.  See my disclosure statement for more information.
As an Amazon Associate, I earn from qualifying purchases.
So you want to swim with manatees? Me too! I've always loved these gentle giants – they're SO cute – so when I booked our recent trip to Orlando, swimming with the manatees was at the top of our activity list!
The time we spent with the manatees was one of my top travel adventures! We snorkeled, we swam, we listened and looked. All in all, getting to see these huge mammals up close was a memorable and fabulous experience that I'd do again in a minute! If you don't have time to read the whole article, I'll tell you real quick that the best places to swim with manatees in Florida are Crystal River and Kings Bay, Florida.
I learned quite a bit about manatees on our tour and via all the research I did leading up to the tour, including the best places to swim with manatees in Florida.
Here's what to know about where and how, to best see these wondrous creatures!
Before we get into specifics on where to swim with manatees in Florida, I'm sure you'd like to know what manatees are all about!
Read on for some quick facts about manatees, then we'll jump into the best places to swim with the manatees.
The Basic Facts On Florida Manatees
Manatees are incredibly large! The West Indian manatees can weigh 1,000 pounds and measure 10 feet in length. These creatures are super sweet plant eaters (herbivores) and eat they do – up to 15% of their body weight every single day.
Manatees can laze around for a good portion of their day. In fact, this is what they pretty much do when not eating.
They often surface for air every 30 seconds while active and about every 20 minutes while sleeping.
Manatees are on the endangered species list and while they have no natural enemies, they are very much endangered by man!
Sadly, the biggest threats to their survival are boats and the loss of their habitats.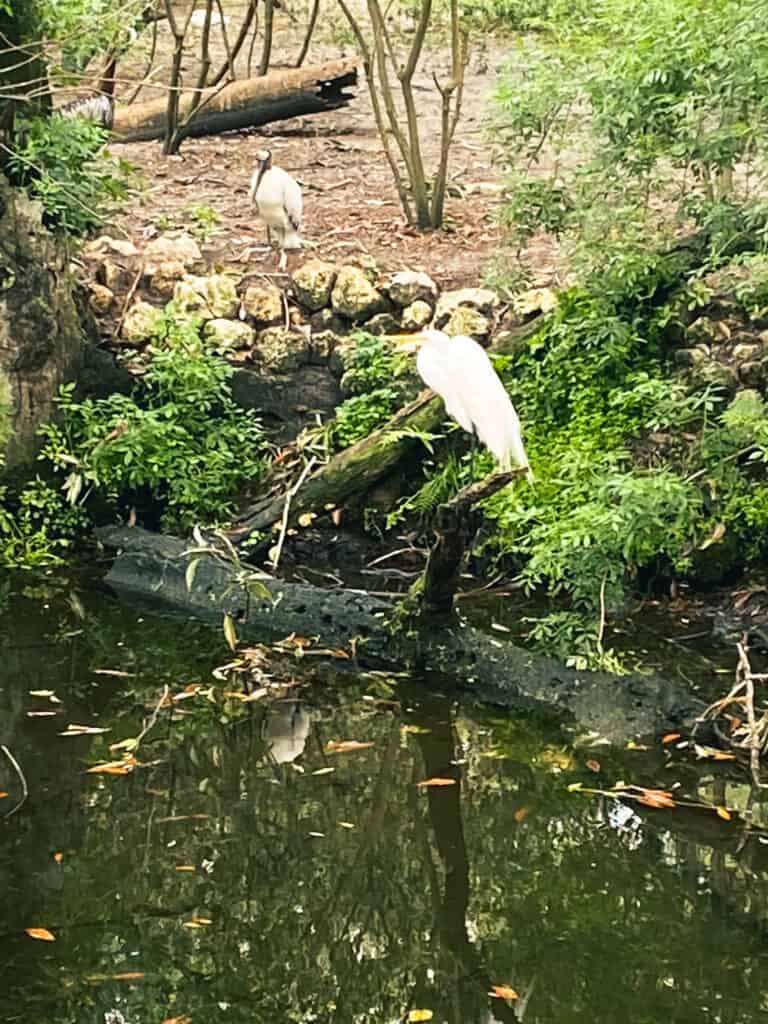 The Best Places To Swim With Manatees In Florida
The best place to swim with manatees in Florida is on the Gulf coast in Crystal River, Florida. Crystal River is the only area in North America where it's legal to swim with manatees.
This is where we did our swim and they're definitely pro's here.
Crystal River is located about 90 minutes north of Tampa and in addition to it being the only place to legally swim with manatees in Florida, it's also the winter home to many, many manatees as well as lots of fish!
Yep, you guessed it: Crystal River, Florida has the largest concentration of manatees in Florida (actually in North America!).
The warm waters of the natural springs beckons the manatees each season for their winter migration.
While not the only place in Florida to swim with manatees, it is the only LEGAL place, and therefore one of the best places. Actually it's deemed the BEST place, for sheer numbers alone.
The manatees simply love the warmer waters and surprisingly shallow water of Crystal River, where the year round temperature is about 72 degrees.
Our tour guide told us that during the migration period, hundreds of these beautiful sea cows make their way to the Crystal River and Kings Bay area of coastal Florida.
And during the summer months, you can still see manatees here because the area is home to quite a few manatees who choose to live in the warm springs year round.
These guys like it so much here that they don't bother with heading out to the Gulf of Mexico and back each year. They simply stay put.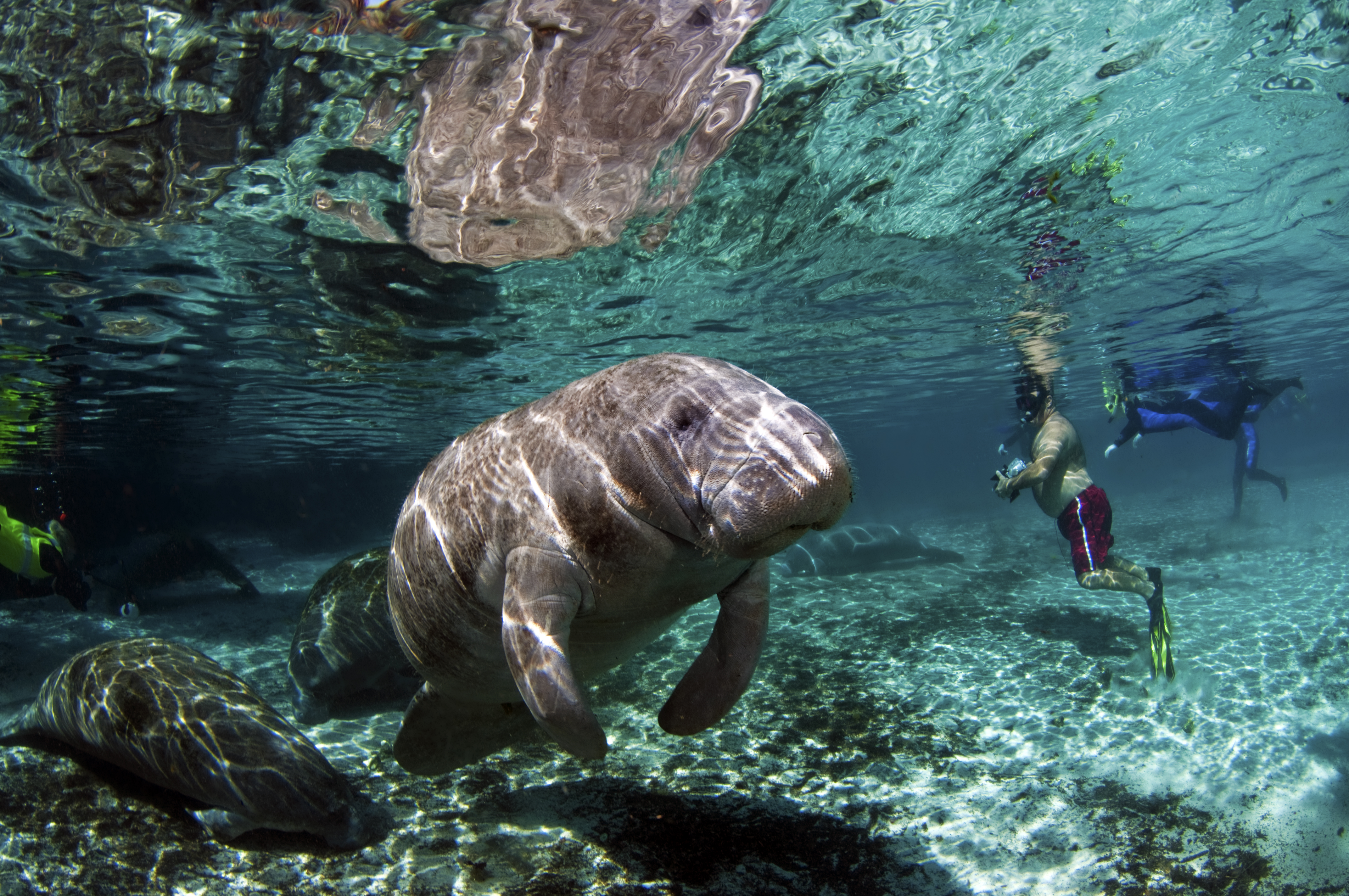 Book A Tour For The Best Manatee Experience
Book a tour for the best way to see and swim with the manatees. I 100% recommend a tour! Make sure you find a reputable tour company and let a good tour guide show you the way.
There's just no way you'll be able to see the manatees on your own. You probably won't even be able to find them!
Or maybe you could, but it definitely wouldn't be nearly as good an experience as you'll have with a professional tour guide.
So go on a tour.
These guys make a living taking people to swim with the manatees so they can almost guarantee you'll be able to see them in their natural habitat like we did. Let me tell you, it was so cool!
The manatees are playful, sweet and docile creatures. They're naturally curious and might try to swim up and get close to you.
Or they might sleep the majority of the time that you're in the water with them.
They're wild animals so it's impossible to exactly predict their behavior and anything is possible, but they're known to be sweet and they don't bite so it's very, very likely that all will be good!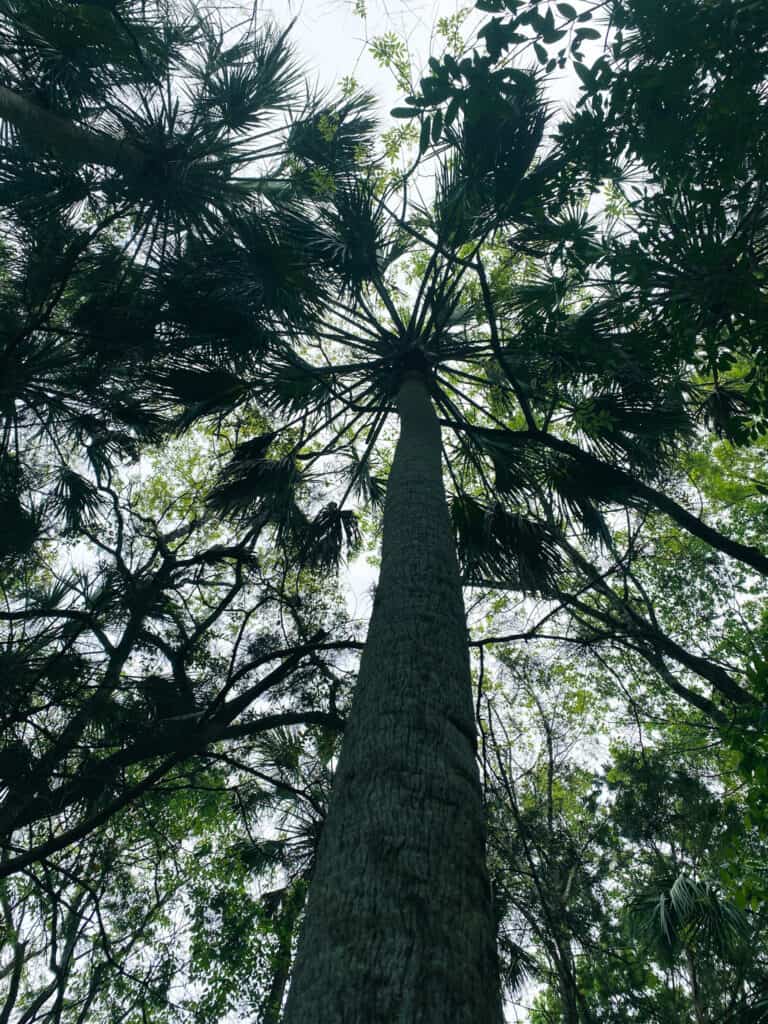 Our Swim With Manatees In Florida Adventure
We grabbed our wetsuits, put them on over our swimsuits and hopped on the pontoon boat.
We took a short ride out into the warm springs of Crystal River and began our search for the manatees.
As soon as we jumped in the water with our noodles and snorkel masks, we were ready to see these creatures.
But first, we made a pit stop at one of the natural springs to check out the fish hanging around.
Our two guides jumped into the water with us to point out different fish and birds. Our guides were great.
This is what they do every day and they are extremely knowledgeable about all the wildlife around, not just manatees.
After checking out the fish, we were able to get up close and personal with a manatee and I actually was face to face with this super sweetheart!
And I do say manatee, rather than manatees because we saw only one manatee, likely due to the time of year we went – in March, after the majority of manatees had migrated back to the Gulf.
So while we saw "only one" manatee, I was not disappointed at all. Seeing that one manatee, along with all the other fish and vegetation in the natural springs of the Crystal River was awesome.
One thing I didn't see that I'm quite grateful for is an alligator.
Yes, our guide told us that technically it's possible to see gators on the tour – after all this is Florida – but it's not probable and most likely won't happen.
Let's just say I kept one eye out for gators pretty much the whole time I was in the water. I'm no fool!
Our manatee swim was quite an experience that I'll treasure. This is something that I've always wanted to do, so to be able to have this experience is so special.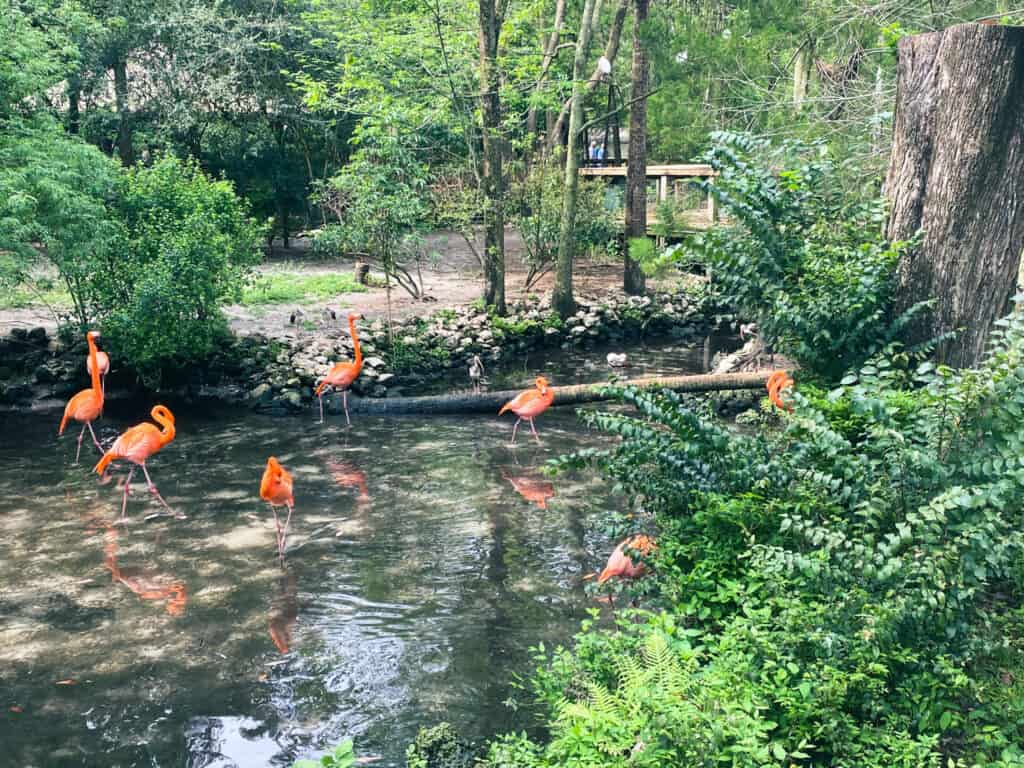 If you've always wanted to try swimming with manatees, you should totally go for it.
And I highly recommend going to Crystal River since it's known as the best places to swim with manatees in Florida.
Where to Stay In Crystal River
Plantation On Crystal River Gets My Vote For the Best Place to Stay In Crystal River. You can book here or check here for other properties in Crystal River.
How Much It Costs To Swim With Manatees In Florida
Prices vary according to each individual tour operator and the length of the tour. But prices are generally less than $75 per person. Tours can be anywhere from two hours to an entire day.
Our tour was two hours and I felt this gave us the right amount of time in the water.
I don't know that I'd want to be in the water any longer, at least during March, because it's cold. Even with a wetsuit on, 72 degrees isn't that warm.
Now the weather was overcast and a little chilly on our March tour day, so I'm sure other days when the sun is out feel a whole lot warmer.
Quick sidenote: I learned so many new things on this tour! One of which doesn't even pertain to manatees, but rather to wetsuits. Do you know how wet suits work?
I didn't either before this tour! wetsuits work by trapping a small amount of water between the wetsuit and your skin.
The trapped water is rapidly warmed up by your body heat, and becomes an insulating layer. Neoprene is the material used in making wetsuits and it's what acts as the insulator. Now you know!
Is It Ethical To Swim With Manatees?
There is concern as to whether it's even ethical to swim with manatees.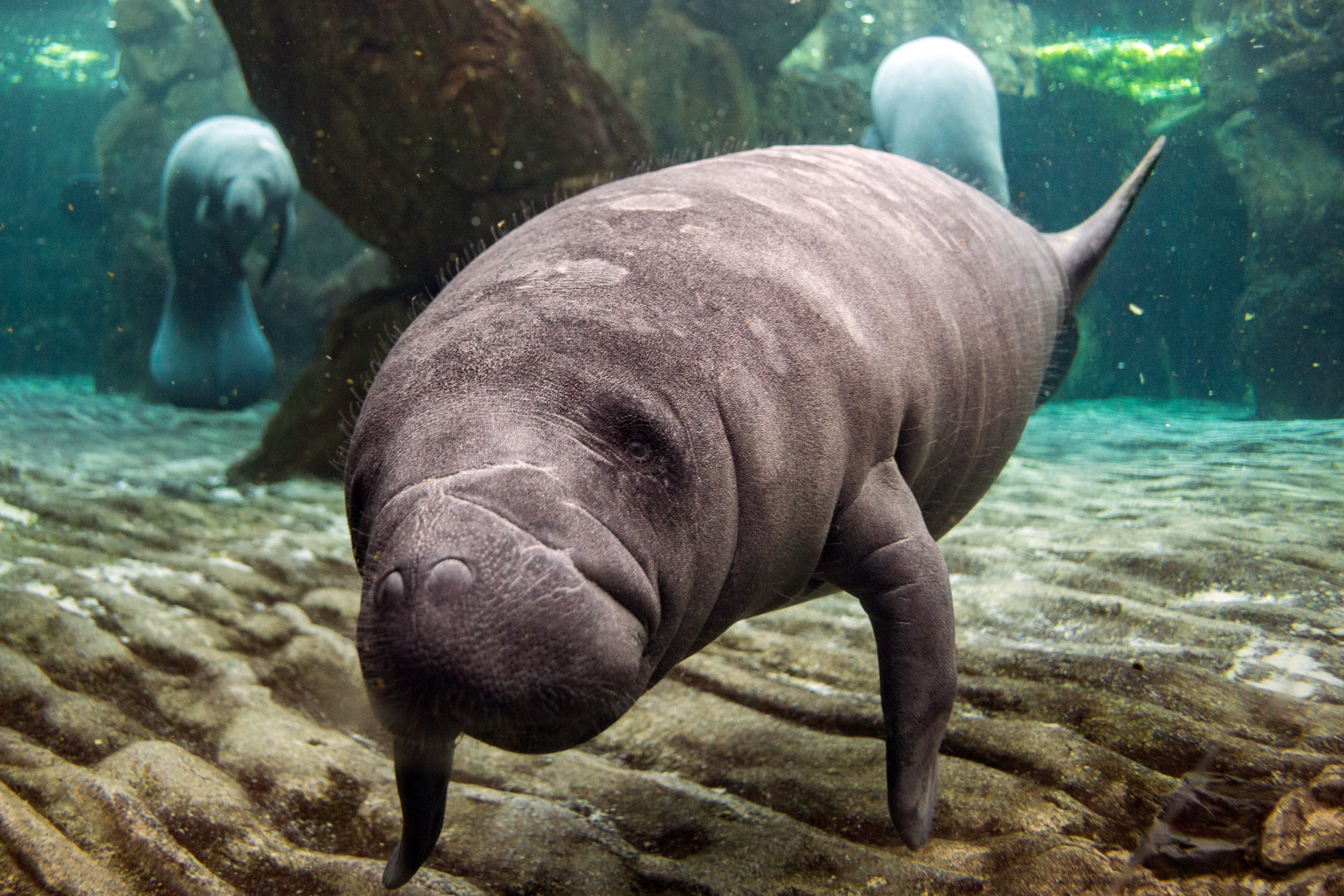 There are a LOT of rules and regulations pertaining to what's allowed and what's not in order to keep the manatees safe.
For instance: Don't ever touch the manatees, don't get too close and try not to splash.
If you go with a reputable tour operator who is experienced with manatee swims, then yes, it's ethical.
On our tour, we were required to watch a movie prior to the tour that covered all the do's and don'ts so that we safely interact with the manatees.
The number one goal of responsible tour operators is to not disturb the manatees in any way and keep them safe for generations to come.
And just in case you want some more background info on manatees, here you go! I told you I learned a lot about these beautiful water beasts!
Do Manatees Bite?
Lots of people wonder if manatees bite. They do have teeth and they are wild animals, so it's possible, but still highly unlikely! If anything they might give you a friendly nudge with their mouth.
Are There Alligators Around?
Gators live in Florida. Hello! Everyone knows this.So yes there could be gators lurking but it's a  remote possibility that you'd see a gator while swimming with manatees.
like the swampy, less populated areas.
Where Do Manatees Typically Live?
In North America, it depends on the season. During the summer months, these gentle sea cows live happily in the warm waters of the Gulf of Mexico.
When the winter months come, this changes because the Gulf water gets too cold. Beginning in about November, the manatees migrate from the Gulf inland in search of warm water.
They need to be in water at least 68 degrees. Water temperatures below 68 are dangerous for manatees and can be fatal for manatees.
Why Manatees Need Warm Water
Manatees aren't made for the cold. Even though these enormous animals look like they have plenty of fat, in reality they only have about 7% body fat – not nearly enough to keep them warm when the weather gets chilly.
Manatees can get a condition called Cold Stress Syndrome (CSS) if they spend too much time in cold water, and this can be fatal for these sweet giants.
Manatees innately know they need warmth so they naturally gravitate to the warmer water found inland during winter months.
Other Spots To Swim With Manatees In Florida
Posts Related to Best Places To Swim With Manatees In Florida
This post may contain affiliate links.  See my disclosure statement for more information.
As an Amazon Associate, I earn from qualifying purchases.
The Sarpy County – Latest News:
Omaha Local News || Nebraska State News || Crime and Safety News || National news || Tech News || Lifestyle News